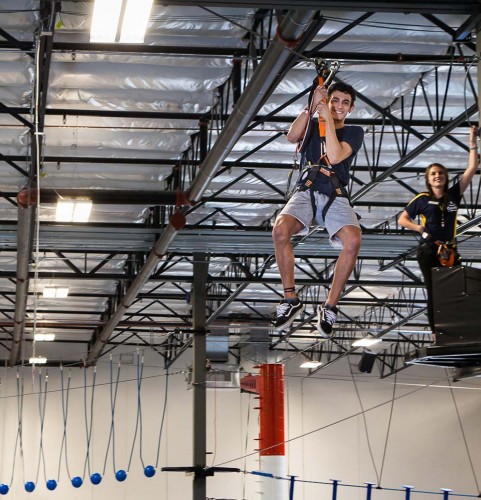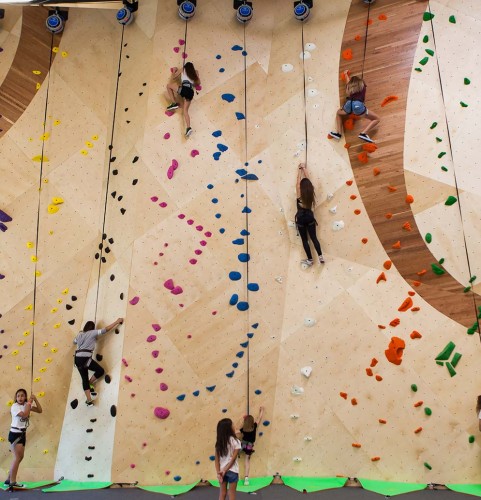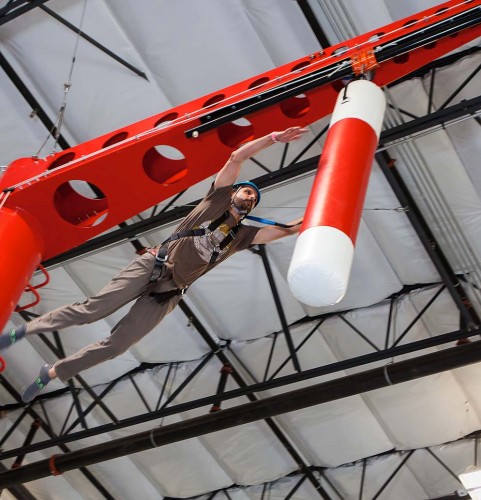 About

Us
Welcome to Gravity Extreme Zone, the best trampoline park in Phoenix, AZ. We are a perfect venue for birthday parties, corporate events, team building, school field trips, STEM field trips, summer camps and more! In addition to our state-of-the-art trampolines, our 40,000 square foot facility features a range of unique attractions, including a zip line, rock climbing wall, bungee jumping, skywalk, drop slide, dodge ball, foam pit, and VR area. With something to do for everyone, we are the perfect place for families, groups, and individuals of all ages!
Our nearly 1-acre facility can accommodate large groups and events & customize them to your liking & budget.
Safety is our #1 priority. All our equipment is made in the US and Europe and meets & exceeds ASTM industry standards.
Our food is freshly made using the highest quality ingredients -- not your standard entertainment complex food!
We are open 365 days out of 365 and are looking forward to welcoming you to our indoor park!
View Attractions
Get Exclusive Discounts
Sign up to our newsletter and receive discounts and specials
What an exhilarating experience! There's fun for all ages and the staff here is great. I was very pleased with how supportive and informative the staff was as I took on all the activities of my choice with the Day Pass. They were eager to answer any questions I had and ensure my safety. This is a fun by yourself or with a group of friends. Better yet, it's not only great entertainment, it's a fun way to get a workout in. I didn't expect it, but after a couple wonderful hours of fun, I left sweaty and completely satisfied. So give it a go! Test your balance, challenge your fear of heights, push yourself to the limit or just enjoy a fun night out with friends or day out with the co workers.
Very fun experience for my older boy (He's 10). Staff was friendly, environment was clean and I liked how open the floor space was. The drop slide and the moon bounce trampoline were a hit with my son. But the trampoline part was also spacious with many different activities. I'd probably come back and do an adult day with my friends. Very fun.
Amazing staff! We were there on a holiday and it was crazy, plus they were having computer issues. They stayed calm and found ways to accommodate everyone as quickly as possible. Kids spent four hours and went non stop the whole time. Food is expensive (comparable to similar businesses) but made fresh and very good quality. We live 40 mins away and will be back soon despite the drive.
A great place to go for all ages, so much to do! We love coming here! They also have ice cream and snacks and a little eating area. Plenty of seating as well! I also noticed it was a lot more clean than a lot of the places we've been, even on a fairly busy day.
This place isn't just for kids! I went on a Thursday afternoon and found a group of Moms all there without their kids. I also saw a couple of homeschooling parents with their kids. It was a great way to do something physical since it's still over 110° outside. Definitely go midweek if you can do you won't have to wait so long for the various activities. If your child has a birthday, there are 4 party rooms in the middle of the facility. AND there is a large area for parents/kids to lounge.
Such an amazing experience! Kenny was an awesome staff member who always made sure we could access the different stations without waiting, patiently explained the sky walk and let us practice, and didn't make fun of me while I challenged my fear of heights! I would absolutely come here again and bring friends!
My kids love this place! They have so much fun and are always so sad when it's time to leave, they could play here all day. The staff has always been very friendly, patient, and helpful with all the kids they interact with. The snack bar has some great options too and for a place like this prices are very reasonable, my kids love the pizza. It's a great place for adults to play too, I just personally like to take advantage of the time my kids are so we'll occupied without me to get reading and such done. ☺️
We are having my sons birthday here with a couple of his friends right now. Very fun! Michael the supervisor is very kind and made sure we were taken care of! He went out of his way to make sure our needs were met. Great place! Thanks again!
Nice clean facility. The attendees were polite and patient with the kids. We're found the family pack to be a great deal. Definitely recommend.
For the price you pay for the day (not by the hour thank God!) it is wellll worth it! The place is HUGE and has so many activities! Dodgeball, basketball, rock wall, trampolines and it like a ninja warrior training facility on steroids.. 😉 We has a blast and will definitely be back!